Whitsunday Taekwondo Oh Do Kwan
Who Are We?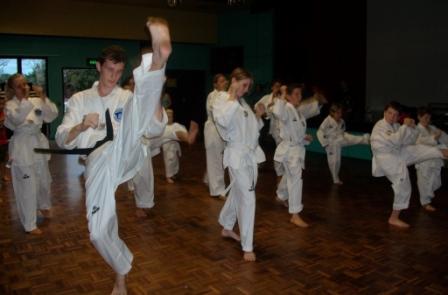 Whitsunday Taekwondo Oh Do Kwan is a taekwondo club located in the glorious Whitsundays in North Queensland, Australia. We first opened our doors in Airlie Beach in February 2010 with a first class of 11 students. In May of that year we had 7 students at our first class held in Proserpine. Since that time the Club has grown and we have close to 110 students who train on a regular basis.
We are predominately a Martial Arts Club designed for self defence that is also highly successful in Martial Sports. As a student, you will be taught a practical way to defend yourself through the traditional martial art of Taekwondo, as well as learning the elements of the modern, internationally recognised sport of Taekwondo. You will become more co-ordinated and disciplined, feel fitter and stronger ... and MUCH MORE!!
Our Head Instructors are National Coaching Accreditation Scheme accredited coaches. Our Examiners are all qualified under World Taekwondo and Australian Taekwondo guidelines. All our instructors and assistant instructors are Kukkiwon (World Taekwondo HQ) certified Dan holders.
What Can We Offer?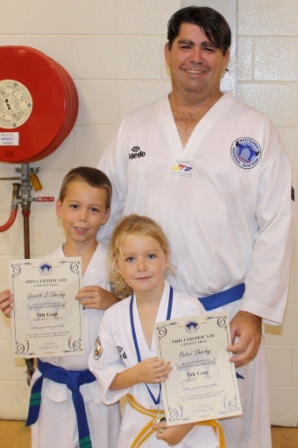 Whitsunday Taekwondo Oh Do Kwan offers Martial Arts tuition for all levels from beginners to the advanced and for students of all ages from 4 and over.

Our "Tigers" classes are for children aged from 4 to 7 years old and we have training sessions for "Juniors" (7 to 12 year olds) and "Seniors" (aged 13 years and over). We also conduct advanced and beginner classes for both Junior and Senior students.
Anyone can practise Taekwondo. Taekwondo is a family activity that can be enjoyed by all members of the family. Being a family-oriented club, Whitsunday Taekwondo Oh Do Kwan proudly boasts quite a few "Family of Kickers" and we encourage parents to train with their children.
What Will You Learn?
You will learn a practical way to defend yourself through a wide variety of blocking and counter attack moves in the practice of the traditional martial art. The Taekwondo patterns (poomsae) teach balance, flexibility and co-ordination. The movements in the patterns develop preciseness and teach the method, principle and purpose behind each movement.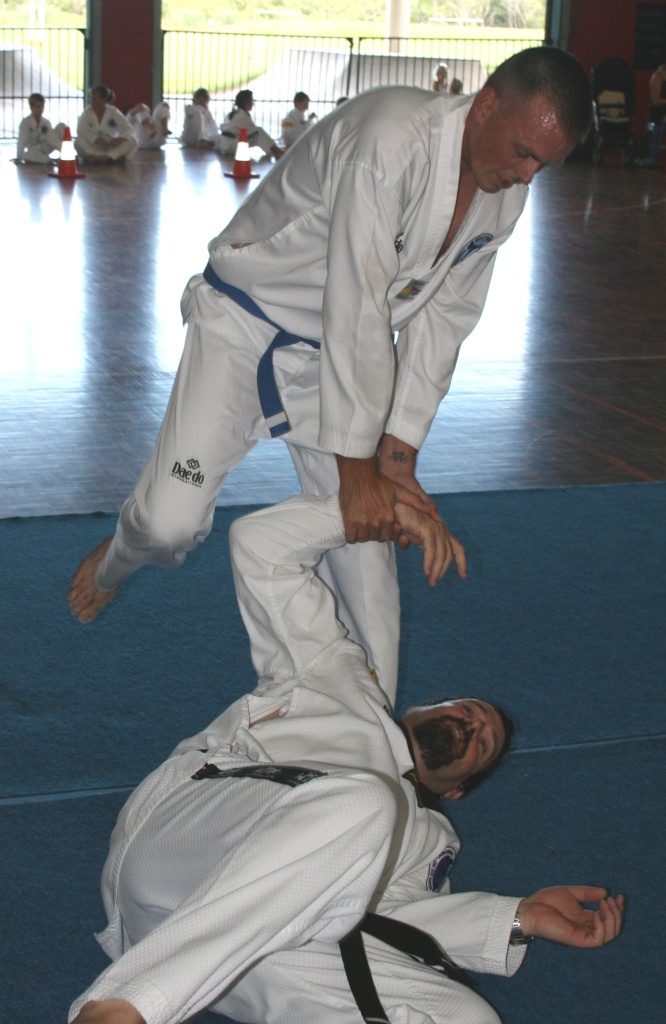 You will also learn the aspects of the modern internationally recognised sport of Taekwondo by incorporating no-contact and semi-contact sparring in your training.

At our Club every student follows the same curriculum however; each student has their own training path. We work at different paces; have different styles, abilities, and challenges. Everyone at Whitsunday Taekwondo Oh Do Kwan is treated equally, with courtesy and respect.

The essential message is to "strive for your personal best". Confidence comes from taking on this lesson. We hold regular gradings to that students can set goals and see their progress from their training.
Competition / Tournament
s -
Australian T

aekwondo

and international affiliation means that students who want to compete in sparring and poomsae competitions can do so at club, local, national and international levels.
"What If I Don't Want To Compete?" You don't have to! Students can enjoy other aspects and benefits of Taekwondo without ever competing in a tournament.
What Can Taekwondo Do For You?
ü
SELF DEFENCE
-
Apart from learning some 'spectacular' kicks, there are very practical techniques taught for 'real life' situations. For example, students are taught releases from a variety of grabs including grabs and choke holds. Continued practice will enable you to perform releases automatically.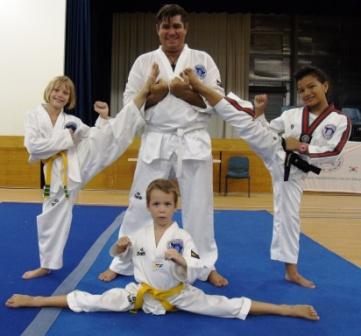 ü
SELF CONFIDENCE
-
Feeling fit, strong, alert and healthy promotes confidence! The instructors at Whitsunday Taekwondo Oh Do Kwan and the art itself help you to develop co-ordination and an appreciation of what your body can do. This in turn will build confidence in yourself and your abilities.
ü
FITNESS -
Taekwondo is an excellent way to get fit. Gain muscle tone, flexibility, strength and endurance while learning practical self defence skills.
ü
FUN
-
Taekwondo offers variety and the Instructors at Whitsunday Taekwondo Oh Do Kwan always combine the serious side of training with fun activities.

Taekwondo really is for everyone!
ü
SOCIAL
-
Meet people of all ages at our Clubs. We organise regular social activities and bring students, parents and friends from the different club branches together. Social activities include BBQs, fun days and an end of year Christmas Party and Award Presentation for members and their families.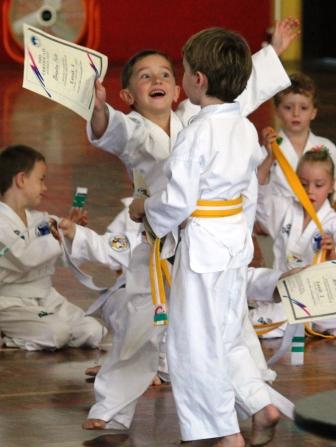 What Is Stopping You?
Aside from all the benefits that Taekwondo has to offer,
at Whitsunday Taekwondo Oh Do Kwan your
first lesson is FREE!! J

So why not come on in to one of the training centres and have a go!

You never know – you may just love it!!